Welcome to A Simple Ceremony!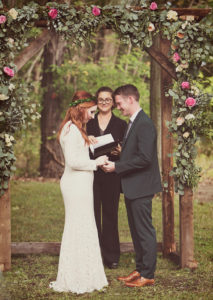 As a professional wedding officiant, I specialize in non-religious wedding ceremonies, elopements and pop up weddings in Southeastern Michigan. I equally welcome all people who choose to have a simple, civil legal ceremony.
You may be imagining a ceremony that is simple, maybe a little unconventional, yet profound and personal. Maybe you are total geeks, and have a certain theme or idea you'd like to tie into your wedding. Whatever your ideas, I want to hear them.
To help make the ceremony planning process as easy as possible, I've created this comprehensive ceremony website, providing out-of-the-ordinary, completely non-religious, fully customizable ceremonies.
In the side menu on this site you can find and read all of my sample ceremonies, collections of readings and optional elements to consider. When you find a reading, vows or poem that speaks to you and your individual relationship, and you get that "Yes!" feeling you'll know you're on the right track. You can also help me get to know you and personalize your ceremony by answering the "Telling Your Story" questions.
Contact me to check availability or ask questions!
Stacey Swickerath (Reverend)
Professional Civil Wedding Officiant
Read all of our wedding reviews on our
A Simple Ceremony
Storefront at